Between July 21 and August 4, 2020, a Coleman Laramie Popup camper was stolen from a residence on Dugger Mountain Road in Piedmont.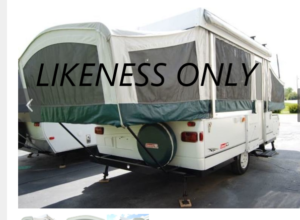 **REVISIT**
Between June 27 and June 28, 2020, 2 bicycles were stolen from a residence located on White Plains Road in Anniston. The bikes are described as a green and yellow 10 speed Huffy mountain bike and a red and black NEXT bicycle.
Between April 19 and April 20, 2020, a commercial air compressor was stolen from a business located on Hwy 144.  Two unknown persons in a light colored, short bed, 4 door truck were seen loading it onto the truck. An unknown amount of change was also taken.